Award Winning Master Painter
We are a locally owned award winning business based in Palmerston North, New Zealand.  Whilst operating under the name team dh ltd only since June 2019, we have been servicing the greater Manawatu region for over 35 years and we can offer you the best quality, professional services available. As a Registered Master Painter we can also offer you a five year guarantee on our work.
We pride ourselves on our presentation, customer satisfaction and the delivery of a quality service and finish. A finish that our clients and our company can be proud of.
We would love to be part of your next house or commercial painting project, so contact us for a free quote today.
Awards recently presented by
Residential Master Painter of the Year 2021
Wallcoverings Applicator of the Year 2021
Residential Gold Awards
New Interior – Less than $25K New Interior – Over $25K
New Exterior – Less than 25k x 2 properties Wallcoverings – New x 2 properties
Commercial Gold Awards
New Interior – Small to Medium New Exterior – Large
New Interior – Large Wallcoverings – New
Residential Highly Commended
New Exterior less than $25k x 2 properties Rework Exterior – Character – x 2 properties
Master Painter of the Year 2016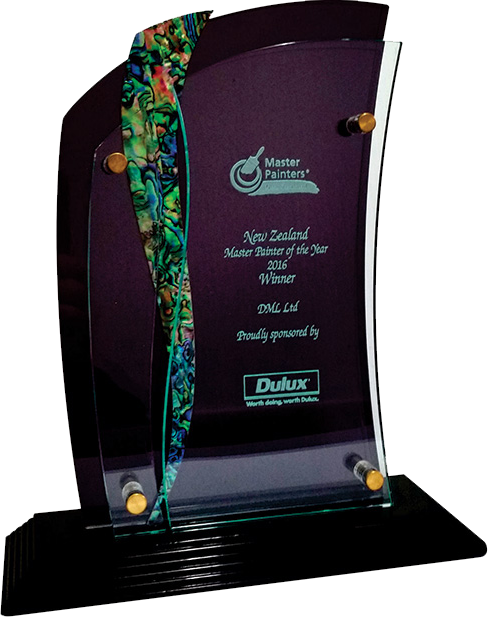 Business Strategy
Our mission is to help you transform your property through paint & asbestos removal while delivering the very best in quality workmanship and customer service.
To maintain the highest levels of professionalism, honesty and integrity in our relationships with our supplier, subcontractors, professional partners and customers.
Provide a training pathway for apprentices that will create tradespersons who are proud of the work they do.
Have a safe and healthy place to work to prevent workplace injuries & ill health
Health & Safety
team dh ltd is committed to providing a safe working environment for our staff and others from accidental injury or illness from work done by our company.
For us health and safety is a fundamental business practice.
team dh ltd is Worksafe NZ licensed and our Health & Safety Management systems have been certified to the ISO standard 45001. We have achieved Sitewise Green status and are pleased to be members of NZDDA and Master Painters NZ.
We are proud of our team of experienced painters and qualified asbestos removalists
We have the experience and expertise and can undertake all types of painting works. If you want a sharp, neat, professional finish which is vital for your company's image (and ours) then contact us now to find out more about our commercial painting service.
Your home is your most valuable asset and our expertise will make it look great and keep it protected for a long time. We'll get the job done quickly.
We certified, professional asbestos removal company for the greater Manawatu, Wanganui, Rangitikei, Horowhenua, Tararua and Wairarapa regions.
Some of our Previous Work